Galeria Monopol
Warsaw
2022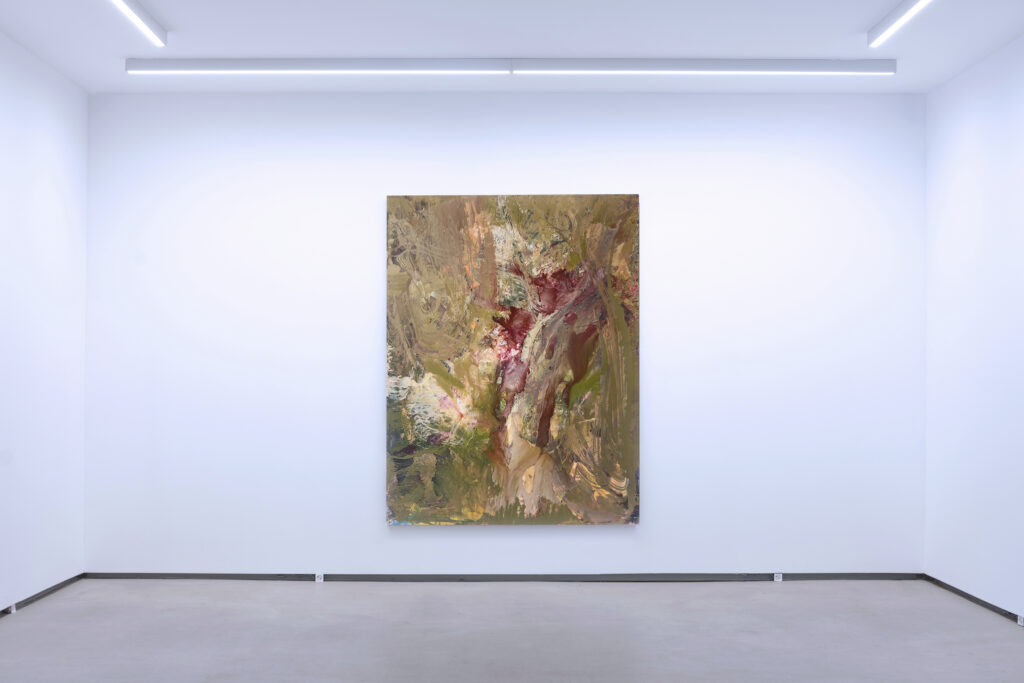 The paintings shown at the exhibition were produced in two places: in Jarosław Fliciński's former studio in Brejo Longo, Portugal, and the current atelier, situated in the Grochów district of Warsaw. It would be a cliché, or rather a cursory explication, to interpret the works only through their places of creation. Nevertheless, the locations are crucial. The artist's acronyms of places are the first clues to appear on the back of each painting. In addition to the location, time is also important. Jarosław Fliciński, with the accuracy of an archivist, describes the day, month, and year when each canvas was painted. His notes are often accumulated, indicating that the pictures have been repainted several times.
Brejo Longo is situated on the coast of the Atlantic Ocean in Portugal. It occupies the very edge of the continent. It is a point on the map with two buildings – Jarosław Fliciński's house and studio – overlooking the ocean. Behind the studio stand hills with eucalyptus forest. The nearest village Rogil is 4 kilometers away, while the nearest town Aljezur is 20 kilometers. You may form the impression that the surroundings are devoid of any human element, and news, if at all, arrives with a simply arrogant delay. Consequently, the artist can work in seclusion, cut off from a mass of outside stimuli, information, and worries. However, nothing can be further from the truth: even in his seclusion, he remains part of the global network. He investigates, analyses, and tries to understand reality as best he can.
The pictures from the BrJL series were painted between January and May 2021. At first glance, they are difficult to associate with the artist's best-known series. They lack the analytical quality of Jumping into Water, the mimeticism of Faites vos jeux, the pictorialism of Stars, or the geometricism of large-scale murals. Read at the micro-scale, they suggest yet another break with the previous visual language – yet another successful escape from form. On a macro scale, they offer testimony to a time full of tension and anxiety. The paintings from the series result from manoeuvering between these two factors.
The latest works created in Warsaw consist of seemingly ordered geometric grids, whose lines spread beyond the canvas frames. They have been painted on parts of the artist's previous pictures. In this case, the destruction of the old order marks the beginning of a new act of creation. As if someone wanted to put the disintegrating world back together again.
The general tendency to provide content on former layers is countered by the need for reduction. The pause becomes more important than the sounds in between. When emotions take over, it is time to cool them down, rationalize them, and try to navigate them. But the goal often remains unknown. The aim itself is not most important here, more crucial is the road still without a visible end.
Franek Smoręda